I like to think that I'm pretty adventurous. I'm an outside the box thinker…and I'm usually up for trying new things. However, even I have my limits….and there are 2 things that I will never waiver on.
The first is food. I'm not at all a…"yeah…I'll give that a try" type of girl when it comes to food. Negative. Not only am I extremely picky about what and where I'll eat, but I'm pretty much neurotic. Total headcase.  Here's one small example of what I'm talking about…eggs. I do like eggs. I do not… like that little chunk of white stuff that connects the yolk to the egg white. That indestructable piece of thing. Do you know what I'm talking about? What is that? An unformed beak? Uh…no. It never makes it beyond the bowl…ick! Then…there's chicken. I cannot just cook chicken. No..no..no…I divide and conquer. There are two parts to a chicken…1. chicken…2. questionable chicken. Let's see…one chicken breast will yield me about 1/4 cup chicken and 3/4 cups questionable chicken. There ya go. I have it out for poultry.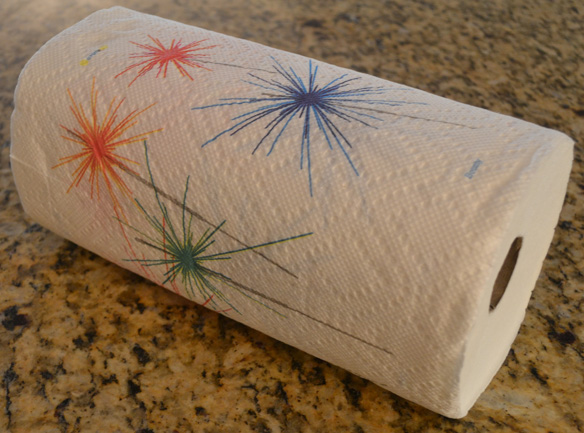 The second is paper towels. Again, I'm not gonna go all crazy here. That might surprise you…especially if you've seen my designs. Nope…it's straight up PLAIN paper towels for me. My paper towels sit on the counter… so… naturally I prefer no bonnets, geese, hearts, or bears holding hearts. Yes, it's true…I like them non-countrified. Yet, someone (who is not myself, my kids, my parents, my in-laws, my sister, my mail lady, my imaginary personal assistant, or any random stranger on the street) feels compelled to bring home a 12 pack of 4th of July themed paper towels. Ugh! Big.Heavy.Sigh as I sit here and look at the fireworks exploding on my counter. Sweetness. Of course the kids were super excited. Have they been deprived?