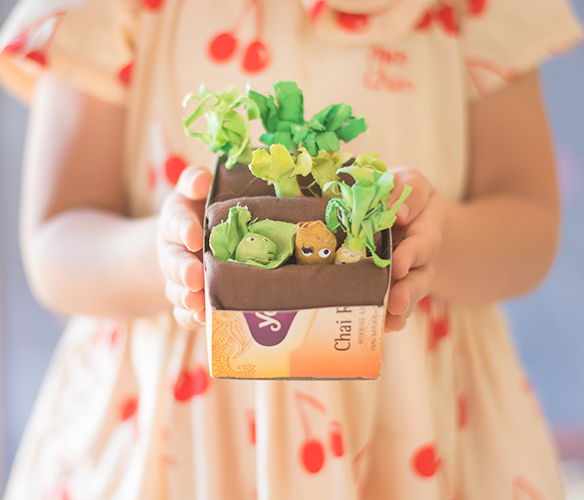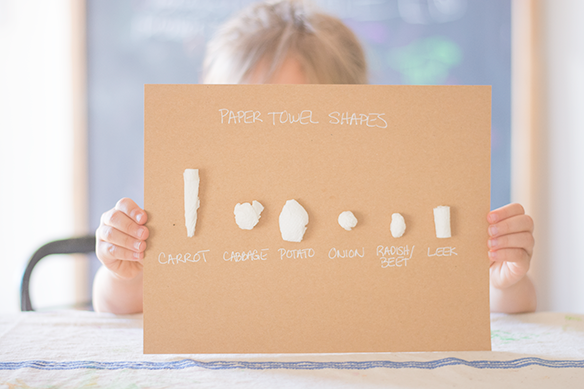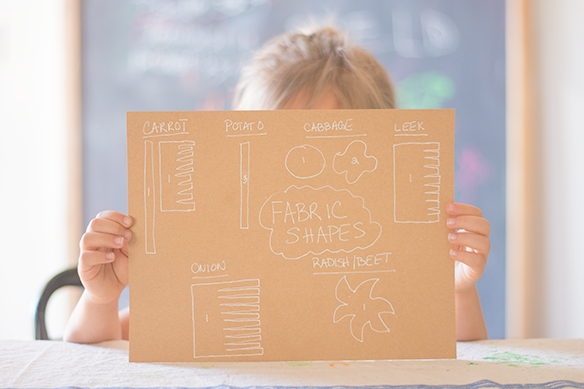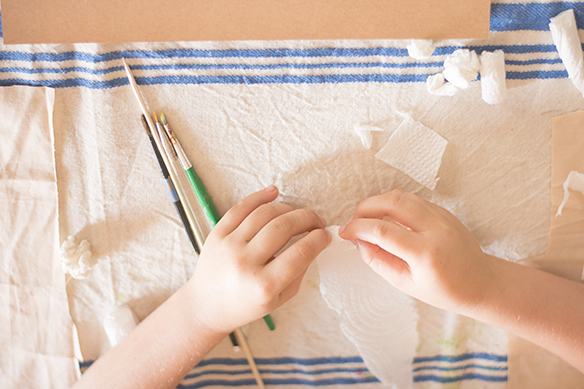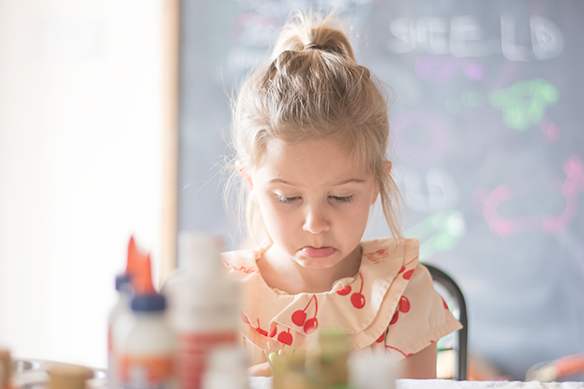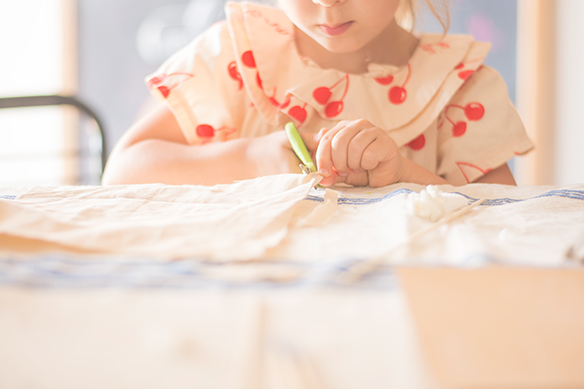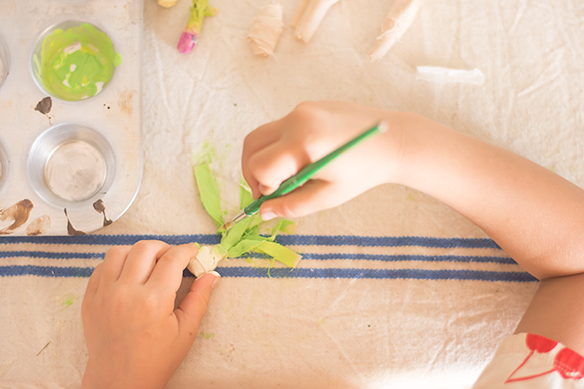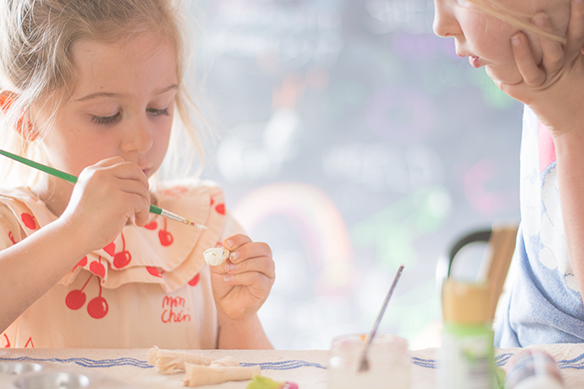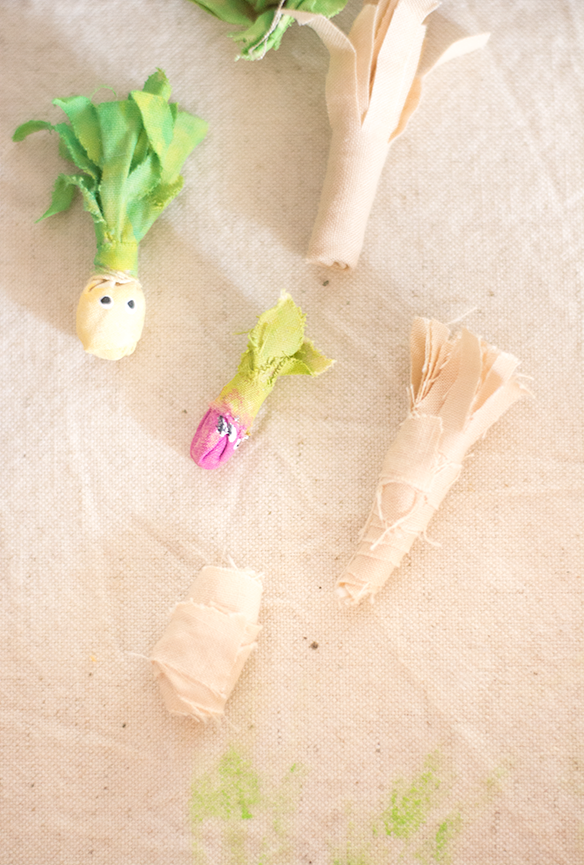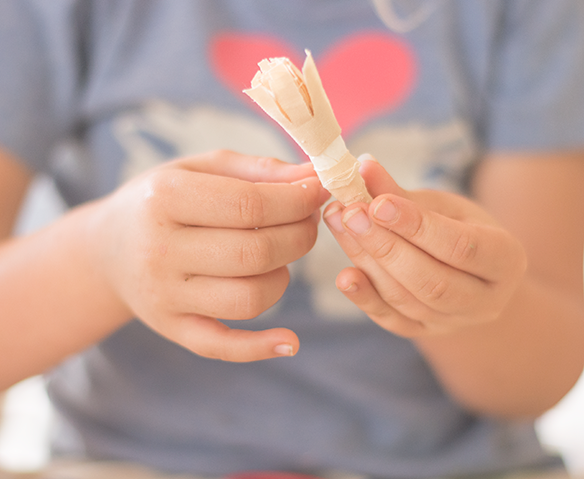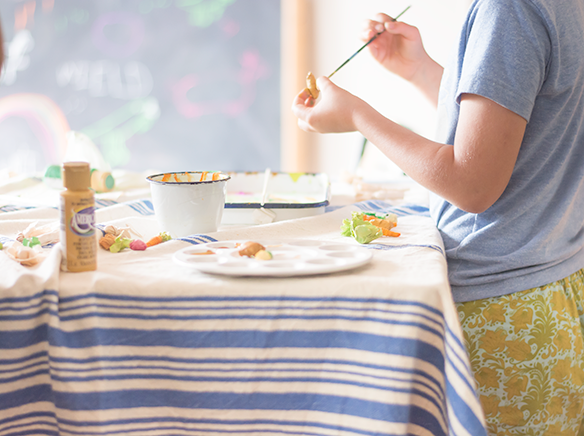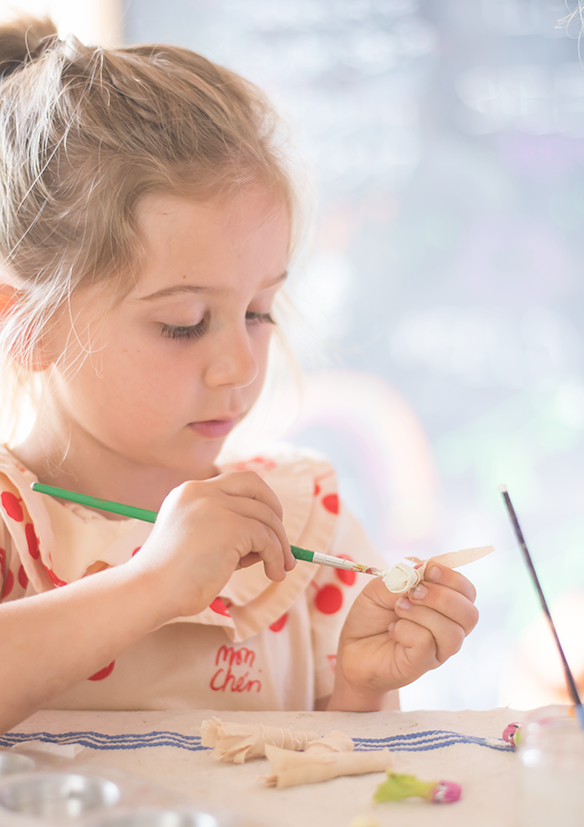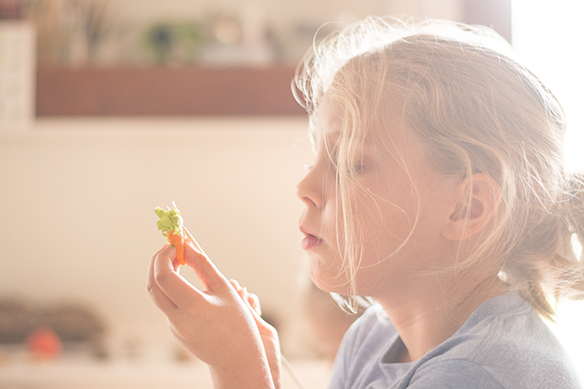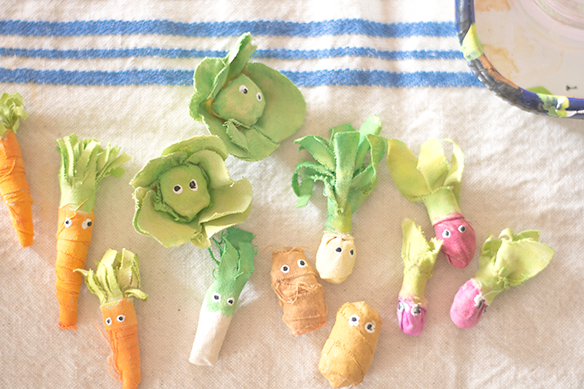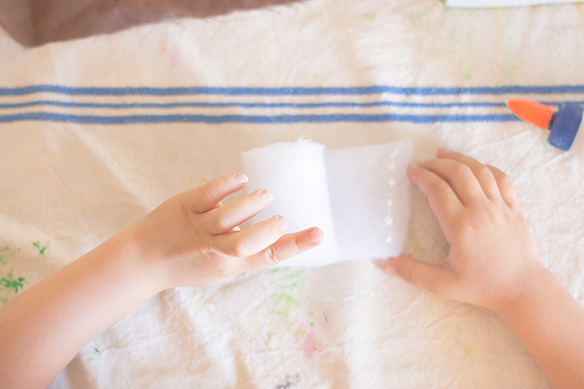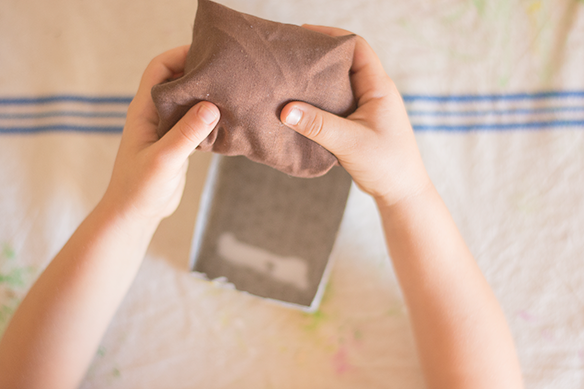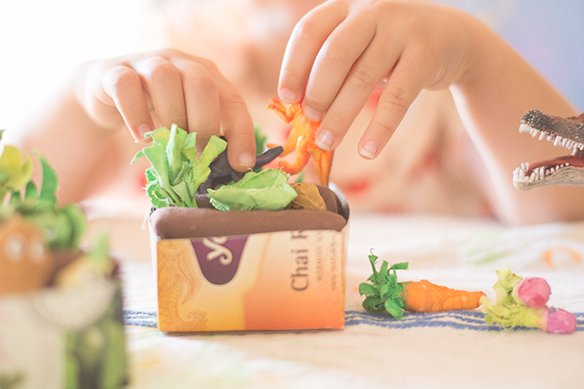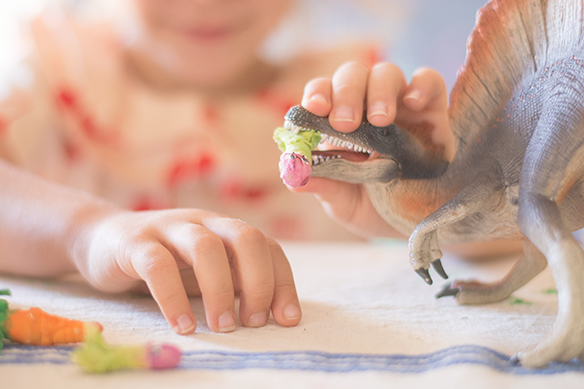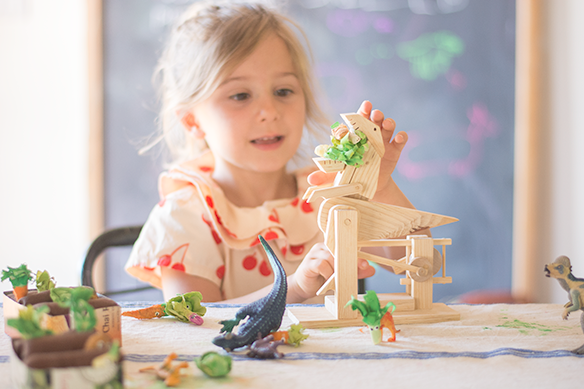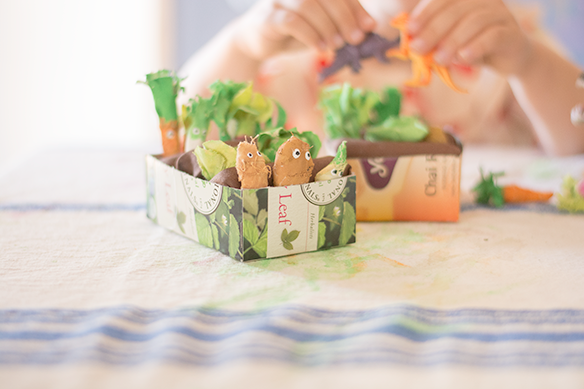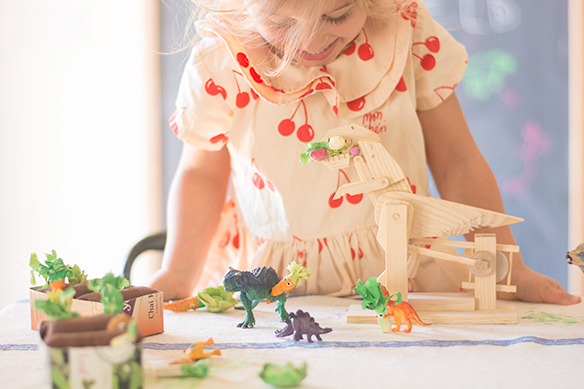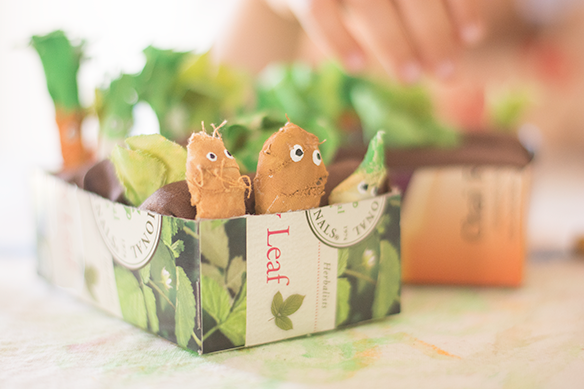 Warning: This might be my longest post yet. This is absolutely one of my favorite art projects I've done with my kids. It's a little involved, but once they get going, they find their rhythm and are well on their way to making this tea box veggie garden. My youngest, who is 5, needed more help with the actual construction of the veggies. My oldest 8 and 7, just needed a little guidance and reassurance that their veggies didn't have to look like Mom's. Whenever I set up art projects, I always have an example for them, that I've created. I remind them, that it's only there so they can see what the end product will be. I always insist that their project be their own and it shouldn't look like mine. However, they are kids and sometimes we have art drama. Luckily, we were able to move past it pretty quickly and they were all very pleased with their own little gardens.
First, gather your supplies:
Muslin fabric
Brown fabric
Paper towels
Acrylic paints
Glue
Scissors
Paintbrushes
Toothpick or wooden skewer
Batting
Tea boxes
To start, you can review the paper towel shapes and fabric shapes chart in the pictures above. I made these to only serve as a guide for my kids. It isn't set in stone. Please, by all means, encourage creativity. At one point, Jacks ventured off on his own and made a little garlic guy for his garden, without any instruction from me. It might also help to have the actual vegetables there, as visual guides. Especially with younger artists. Anyway, please use the charts I made at your discretion.
After reviewing the charts, start making your paper towel shapes. We made potatoes, leeks, onions, cabbage, beets or radishes, carrots, and Jacks made a garlic. Once you have all your shapes, set them aside and begin cutting the fabric shapes. After cutting all the shapes, you can start assembling the veggies. I'm going to try and be as descriptive as possible, so you can see how we covered the paper towels in our fabric. Let's break it down by veggie, shall we?
Carrot: Cut 2 – 3 long, thin strips for the base of the carrot. For the carrot top, first, start by cutting a rectangle. Fold the rectangle in half, lengthwise and cut fringe, careful to not cut all the way to the fold. To assemble, add glue to the carrot top, wrap the fringed fabric around, and secure with more glue. Then, begin wrapping your long strips from the bottom of the carrot, all the way to just over the base of the carrot top. Secure with glue.
Potato: Just like the carrot, cut thin long strips. I think I showed three in my chart, but it will all depend on the size of your tater! This guy is pretty easy. You just wrap him up, mummy style, until there is no paper towel showing. Secure the ends with glue.
Leek: Cut a rectangle shape. Down one long side of the rectangle, cut fringe, but not all the way down. This one is a little tricky to assemble. Place your paper towel leek at the edge on one of the short sides and start rolling. When you start rolling, grab the long side (the one without the fringe) and pull up, so the bottom of the leek is covered. As you roll, keep that long side folded in. When you reach the end, take one of the leek fringes and wrap around the neck and secure with glue.
Onion: The onion is pretty much identical to the leek. The only difference is you start with a larger rectangle.
Cabbage: Cut a circle, big enough to cover the head of your cabbage. Then cut two shapes, that loosely resemble a flower. Maybe they look more like an amoeba? Glue those together, then onto the head of cabbage.
Beet/Radish: Cut a pinwheel shape of sorts. While holding fabric, place radish in the center, standing up. Grab the leaves and gather up, to cover radish. Take one of the leaves and wrap around the neck and secure with glue.
I know some of the descriptions might be a little hard to follow. But, really you can do it however you want. I just made these up and it worked. You might discover a better way!
Now comes the fun part…painting! My only instruction for the painting is to try and cover all parts of the fabric. Also, blending colors is always fun! You'll find that some of your fabric might start to get stringy during the painting phase. Don't worry, it just looks like roots. If it gets too crazy, just give them a little trim. After painting, you can add eyes using the toothpick or wooden skewer. This was all my son's idea. My original version did not have eyes. I loved it! So we added eyes and the garden came alive, so to speak.
After all your vegetables are done, you are ready to make the garden bed. Depending on your tea box, you should be able to get 2 garden beds from one box. Start by measuring an inch from the bottom and marking a guide all the way around the tea box. Next, cut off the bottom. Repeat the same steps for the top of the tea box.
Using your tea box as a guide for width, cut 3 strips of batting approximately 7 inches long. Roll each strip and secure the end with glue. Next, cut 3 rectangles from your brown fabric. Don't cut them too small, we cut ours at 7 in L x 4 in H. Place your batting roll at the center of one of the long edges. Roll, until it's covered and secure the end with glue. Grab one end of the brown fabric and fold in and glue. Repeat with the remaining brown fabric end. Add glue to the tea box and place brown fabric roll, seam side down, and secure to box. Repeat for remaining 2 fabric rolls.
Whew…I hope you got all that. Remember, if you didn't, just improvise! After all the paint and glue has dried, it's time to plant your veggies!! They can be planted over and over again. Annie, invited her T-rex's and other meat eating dinosaurs to her garden. Turns out, they like their veggies, too!!