For Christmas this year, my loves got bug catching nets. After several cheapies, I made the spring for real deal ranger nets. They have already gotten tons of use. Just a few weeks ago, Jacks caught a Monarch. When we released her, she found her way to our Milkweed and laid bunches of eggs. We have watched them grow from eggs, to full blown Milkweed munching caterpillars the last couple of weeks. They have been completely fascinated with those little guys. With Valentine's Day just around the corner, I went to work on these caterpillar cuties!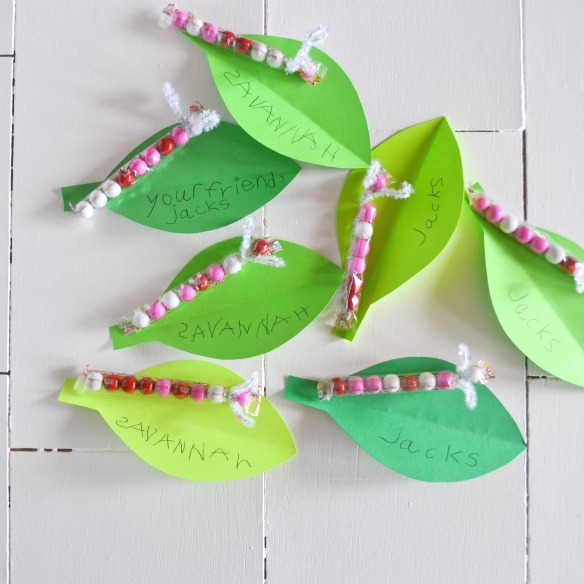 Gather your supplies:
Green cardstock
Valentine Sixlets (found @ Dollar Tree)
Chenille stems
Scissors
Adhesive dots or double sided tape
Instructions:
Fold both ends of green cardstock towards the middle and draw leaf shape. (I made a pattern)
Cut leaves and fold out.
Cut chenille stems to about 2.5 inches in length.
Wrap chenille stem between the first and second sixlet.
Using your scissors, curl the anntenae.
Add an adhesive dot and secure caterpillar to leaf.
Have your child sign their name.